Tuesday, July 5th, 2005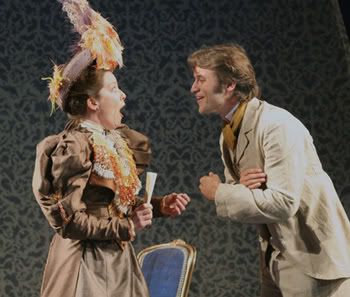 And as the professionally naughty Lord Darlington, Adam Rothenberg finds an erotic restlessness behind the foppishness. Like Ms. Keating, the hunky Mr. Rothenberg, who played Stanley Kowalski at the Kennedy Center last year, turns being cast against type into a character-deepening advantage.
No, the one to lap up, as he tries to sweet talk young Lady Windermere out of her stays by arguing a case of tit-for-tat, is Lord Darlington (Adam Rothenberg, whose lupine insouciance recalls Laurence Harvey).