Thursday, March 29th, 2007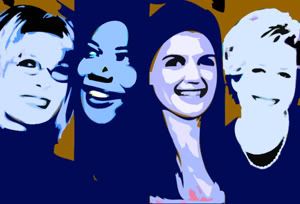 Although I must admit that I was a little saddened to discover that this flick wasn't a remake of 1980′s How to Beat the High Co$t of Living, I was overjoyed to hear that Adam would be appearing in it. Written and directed by Callie Khouri of Thelma & Louise fame and starring Diane Keaton, Queen Latifah and Katie Holmes, Mad Money appears to continue our favorite thespian's well-established pattern of appealing to those of us mercifully free from the burden of the Y-chromosome.
Adam's certainly on a roll these days. It is, most definitely, on.
Mad Money

A woman who was used to the finer things in life is suddenly thrust back into the work force after her husband gets downsized in writer/director Callie Khouri (Divine Secrets of the Ya-Ya Sisterhood)'s American adaptation of the hit British comedy Hot Money. Faced with the prospect of losing her home as her debt begins to mount, posh housewife Bridget (Diane Keaton) accepts a job on the midnight cleaning crew at a local branch of the Federal Reserve Bank. When the growing temptation of the cash that surrounds her night after night ultimately proves too powerful to resist, Bridget teams with two of the other cleaners for a criminal exercise in creative moneymaking. Queen Latifah and Katie Holmes co-star in a crime comedy inspired by actual events. (All-Movie Guide)

Cast: Diane Keaton, Queen Latifah, Katie Holmes, Roger R. Cross, Adam Rothenberg
Director: Callie Khouri
Producers: James Acheson, Jay Cohen, Frank DeMartini
Writers: Glenn Gers, Callie Khouri

For more information:
imdb entry

Update (05/02/2007):
The cast now includes Ted Danson and a pair of HITG! veterans, Thelma & Louise co-star Christopher McDonald and the great comedic character actor Stephen Root.