Sunday, April 27th, 2008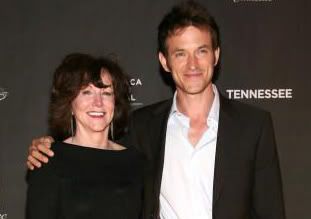 Adam and his proud mom Gillian took in the premiere of his latest cinematic offering last night, an event which brought out Tribeca Film Festival founder Robert DeNiro, Ben Kingsley, Edie Falco and, of course, the Tennessee family. Watermarked images from the red carpet and after-party can be found at Getty Images (here and here) and WireImage. The Mariah Carey super-fansite Mariah Daily Journal, has a batch of Mariah-centric non-watermarked images, a few of which sport our favorite leading man (here, here and here).
In other news, Tennessee's website has been spruced up and revamped and Adam can be spotted briefly in this clip from Access Hollywood.
On the business side, a stroll by Elephant Eye Films has revealed that Tennessee's gonna be taking its act to the Cannes Film Festival for a market premiere on May 16th. The official website has Elephant Eye listed as the international sales agent for the film, with Submarine holding down domestic sales duties.
Thanks to commenter Jeane for the heads up.