Monday, September 15th, 2008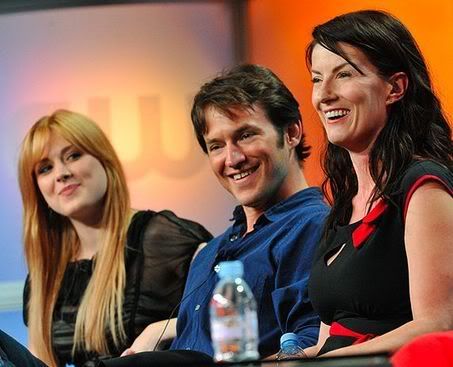 Diane Ruggiero with Adam Rothenberg and Alexandra Breckenridge at the Television Critics Association press tour (Photo: John P. Filo, CBS).
We here at the Apple have finally accepted that our summer break is over and we're gonna be working on rolling out the backlog of Adam news we've piled up recently. Bad news first, just to get it out of the way.
Ex List head writer and executive producer Diane Ruggiero has walked off the project after a half-dozen episodes, citing the usual "creative differences." In a candid account of the behind-the-scenes action with The (NJ) Star-Ledger's Alan Sepinwall, Ruggiero complains that the network kept pushing her back to the Israeli source material, in spite of her attempts to broaden the half-hour, limited-run show into an hour-long, open-ended series.
"They would keep coming to me talking about how they wanted the Israeli version, they wanted the Israeli version, and I'm going, 'Test audiences loved the psychic, who was only in one scene (in the original). They loved her sister; she didn't have a sister in the original. They loved the flower shop; she didn't have a job in the original.'

"I felt very strongly that she has to have a regular life, and this weird quest has to almost feel like a burden at times. She has to feel put upon, otherwise she bugs me. Every kind of spin they tried to put on it like that, they just wanted it to be happy and optimistic."

Eventually, it seemed like there wasn't anything Ruggiero and CBS could agree on.

***

The breaking point came early last week, when CBS hired Segahl Avin, creator of the original show, to consult on the series. Ruggiero realized CBS wouldn't be satisfied with anything less than an exact copy, and she quit.

"I'm not a f—ing transcriber," she said. "Why would you hire me if you wanted a transcriber? I'm a pain in the a–. I have a specific thing that I do. If you don't want that, go hire someone else."

***

"I'll never work at CBS again," said Ruggiero. "The best thing to say is they hired me to do an adaptation of this show, and I think I did a really good job. I was proud of what I did in making it an American television show and putting my spin on it and doing my thing and changing it from being an Israeli half hour to being an American hour that was a romantic comedy. And they seemed really happy with it, and then all of a sudden it became, 'We want the Israeli version.'

"And now they can do it."
An apparently surprised CBS and production studio 20th Century Fox released a joint statement on Friday: "Diane is a gifted writer and developed a wonderful series. We are sorry that she has decided to leave the show but have tremendous confidence in Rick Eid and his strong team which includes Segahl Avin, the creator of the original Israeli format who will continue to be a consultant. We expect no disruption in production and remain excited about the upcoming premiere of 'The Ex-List' on CBS."
Ruggiero's talent, previous success on Veronica Mars and considerable personal charm were definite assets to the show, from a critical reception standpoint, if nothing else. The show debuts on Friday, October 3rd at 9 PM.