Saturday, May 13th, 2006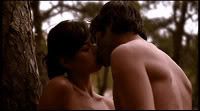 While looking for updates on Adam, we stumbled upon the following entry on the 2003 short "Coyote Beach" at Celebrity Nudity Database:
He plays Sarah's boyfriend in this amusing short film. Throughout it we are treated with various shots of him in his bathing suit and sandals (and occasionally with a long-sleeved shirt on over it) – the suit even clings precariously to his butt in one instance and you can see his butt crack. But the best is yet to come. After the sex in the forest, we see him walking around and talking to himself (the camera is focused on his upper chest) and then you get a look at his bare ass from the back, very nice and shapely. Then he turns around and goes to his girlfriend, and you get another view of his ass (and the camera is perched alongside the girl and I think there is an obscured view of his genitals in shadow as he moves towards her). He then sits down with her and helps her get dressed, and then gets up to catch up with her, and you get yet another view of his rather lovely ass. Recommended.
Adam received three stars out of a possible four for this performance. Intriguing.